Just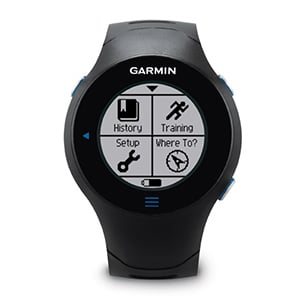 replaced my forerunner 410 with the forerunner 610. Why would you probably ask? The main reason is one feature I miss in my 410 … vibration. I love to run solo with music. But I also program a lot of training into my watches, beeps are not always very loud.
But I must admit there are a few more improvements. Here is my comparison.
610 vs 410
better form factor
Feels more like a watch on your wrist. Sounds a bit weird but the 610 is much slimmer then the 410 thanks to its metal back casing. This allows the 610 to sit on your wrist like a real watch, hard to explain but anyone would feel the difference right away. The 610 is very capable as a day-to-day watch!
4 datafields
410 only had 3 a screen. Great! More info per screen means less switching between pages.
Touchscreen, it works great!
This is the way to eliminate buttons!! Screen response is very fast and consistent. Tested with water and trough clothing it just works. Allows very fast browsing trough pages and settings. Don't expect this kind of menu action from button pressing.
Custom workouts
Thanks to the touch screen you can now program custom workouts on the watch!! Normally you would need to make these on your computer and then send them to the watch. Now with the 610 you can create custom workouts and edit existing ones. Very handy if you made a workout programming mistake or just not able to visit your computer.
Vibration
Never understood why a running watch doesn't have this feature! You easily miss a beep and when you run solo you probably take some music with you.
1 second recording
Forces the watch to take a sample of all data (hr, gps, time, speed) every second! Makes an even more accurate gps track.
Virtual racer
This is the kind of virtual competition you always wanted! Previous virtual partner (also still exists on the 610) allowed your to race against the computer with a fixed pace. Now virtual racer allows you to create an opponent based on any course! So you can race against your previous runs pacing. The coolest thing is that it's not bound the course. You can choose to re run the same course or run another course.